Pure Facial Aesthetics | Rejuvenation with the client's own cells and growth factors
---
Date: 23th March 2018

Time: 09:00 – 16:00
Exclusive hands-on course by Dr. Cleopatra Nacopoulos
Rejuvenation with the client's own cells and growth factors without the use of additives – administered via mesotherapy and microinjections in the skin, wrinkles, neck, scars and lips.
Learn how to include regenerative medicine in your treatments and use your patient's own growth factors and stem cells – chairside. Pure Facial Aesthetics is based on the latest generation of blood concentrates (PRF) using the i-PRF™ and Liquid A-PRF+™ protocols to bring cutting edge regenerative medicine into facial aesthetics and enable you to do regeneration and pain treatments.
The course will provide you with theory and an in-depth understanding on how to use the growth factors and stem cells – alone or in combination with fillers, botox or PDO Treads.
There will be a "How-To-Do" live demonstration of facial, lip and wrinkle treatment.
During the course the participants will have the opportunity do hands-on sessions on each other, and use techniques and handling of PRF in a the cosmetic setting.
Pure Facial Aesthetics is based on the Platelet Rich Fibrin protocols i-PRF ™ and A-PRF ™ Liquid.
i-PRF ™ is used to regenerate the skin's elasticity and rebuild the tissue through micro-needling and mesotherapy.
A-PRF ™ Liquid using high fibrin content to create volume and is used for augmentation – naturally and without side effects.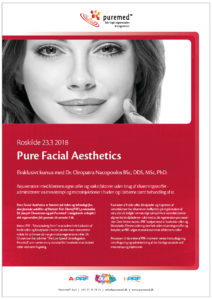 Speaker


Dr. Cleopatra Nacopoulos BSc, DDS, MSc, PhD.
Dr. Cleopatra Nacopoulos has been doing facial aesthetics since 2003 and followed the development from Botox and Hyaluronic acid into Vampire technique using PRP. Since 2014 she has been using i-PRF™ and are today doing all treatments using patients own cells.
Place:
Comwell Conference Center Copenhagen
Center Boulevard 5
2300 København S
Phone: +45 32 47 30 30
E-mail: info@comwellconferencecopenhagen.dk
Questions
If you have questions about the course, please feel free to contact us:
Phone +45 3131 1925
E-mail