Puremed |
Wound Management
Wound healing jumpstarted by stimulation with the patients own white cells and platelets
Our approach to wound healing and wound management is based on a simple, yet very powerful thinking where wound healing is jumpstarted by wound stimulation with the patients own white cells and platelets on the wound bed and via injection stimulation around the edge of the wound.
Our Smart Blood Concentrates solutions A-PRF™ and i-PRF™ are on the verge to break through as the strongest and most efficient way to do wound healing. The processes, the setup and the gain in handling time, shortened healing time and lift in life quality makes A-PRF™ and i-PRF™ wound management solution a simple choice.
A-PRF™ fibrin membrans on wound bed for stimulation of the inflammatory cascade and faster healing
Wound Management |
Components
Wound |

A-PRF™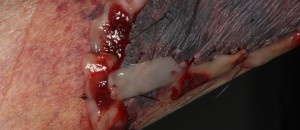 A-PRF™ – Advanced Platelet Rich Fibrin
The A-PRF™ fibrin membrane is manufactures chairside based on venous blood drawn from the patient into A-PRF™ tubes. After few minutes of spin in the DUO centrifuge a blood clot is turned into a fibrin membrane encapsulating white cells and platelets for slow release for more than 7 days.
Wound |

i-PRF™

i-PRF™ – Injectable Platelet Rich Fibrin
i-PRF is a liquid "fibrin membrane" based on venous blood from the patient and is also created chairside in few minutes. It contains high levels of leucocytes, platelets and some stemcells. i-PRF™ coagulates few minutes after the end of the spin and enable usage via injections and a stable stimulation.
Wound |

Epiflex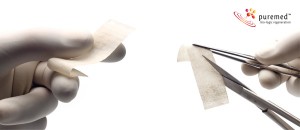 Epiflex® – human acellular dermis transplant
In wound sites where a graft is needed to rebuild the missing skin layers, Epiflex is a often used solution among physicians and wound care professionals in Germany. Epiflex  is a human acellular dermis transplant that is manufactured from skin recovered from screened consenting donors according to validated and approved methods. Combined with A-PRF™ membranes above, integration happens faster.
A-PRF™ fibrin membrans on wound bed for stimulation of the inflammatory cascade and faster healing
A-PRF™ | 
The process & application
Healing result after few days
A-PRF™ Liquid | 
the new option for large membranes
Wound healing

|

 examples
These examples are for healthcare professionals – click on the section to open each example
Please note that the pictures need to load
Wound healing

|

 video examples
These examples are for healthcare professionals
Head wound |
– 5 days healing
A-PRF™ membranes placed on wound – healing time 5 days
Osteomylitis |
grafting process
Process of grafting using bone, A-PRF™ and i-PRF™