Puremed | 
Orthopedic Surgery
Wound and bone healing perspectives stimulating healing and empowering bone grafts
Our solutions for Orthopaedic surgery combine our knowledge and portfolio within the Smart Blood Concentrates and Hyaluronic Acid to create faster and more secure healing results with less pain.
By combining Solid PRF and Liquid PRF we enable Orthopaedic Surgeons to work smarter with bone grafts and access the wide portfolio from the DIZG tissue bank in Berlin.
PRF injected into the knee joint show very promising results in pain reduction and in stimulating the rebuild of cartilage.
A portfolio
perfectly suited for 
Orthopedic Surgeons
Orthopedic | Component
 in the portfolio
Brief introduction to components in our Orthopedic portfolio
Puremed | 
Smart Blood Concentrates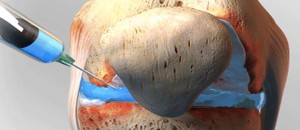 Liquid PRF – Injectable Platelet Rich Fibrin
The injectable PRF solution offer Orthopedics a wide range of capabilities from being a potent fibrin glue to a clotting component in bone grafting to pain management and stimulation of cartilage rebuild – all biologically and safe.
Puremed | 
Hyaluronic Acid products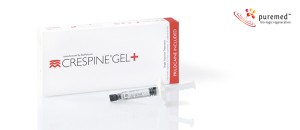 Bio-Science Crespine Gel+
Using the power of cross-linked hyaluronic acid products from German Bio-Science, we address areas like viscosupplementation with hyaluronic acid for the management of osteoarthritis, using single-injection with slow resorption and thus long-time functional enhancement and pain relief.
Buy in Webshop
Puremed | DIZG 
Allografts bone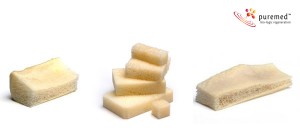 More than 20 years experience supplying Bone allografts to surgeons 
We work with an ALLOGRAFT portfolio of more than 250 shapes and sizes from the largest tissue bank establishment in Germany, counting bone blocks of many sizes, granulates, and chips.
Allografts for spine surgery
Orthopedic | 
Guided bone regeneration
When adding the patients own healing capacity to the bone regeneration process, Orthopedic surgeons not only enhance the prospect of faster and more predictable healing, they also get a whole new set of tools for handling bone substituts.
Osteomylitis | 
Guided bone regeneration
Case step by step
Orthopaedic | 
Wound management
Besides the Wound Management cases shown below – visit our Wound healing part to see more..
Bone graft prepared chairside and placed into the wound