PRF |
Dental application

for Veterinarians
Examples of Chairside access to the patients healing potential from venous blood
PRF, + 20 years in dental surgery
PRF was coined by the French Anaesthesiologist Dr. Joseph Choukroun in 2001. From early on PRF found use in dental surgery and has since been growing to a level where PRF today is widely accepted as an important biological component in dental surgery.
In Scandinavia, we have installed +120 PRF solutions in dental offices and Maxilla Facial departments.
Veterinarian use since 2016
We started supplying PRF to veterinarians in Denmark in 2016 and have seen a growing interest in using PRF as a biological component in different dental treatments. Today we are working with university departments on different elements and perspectives of PRF in veterinarian OA treatments and dentistry.   
Puremed / Puredent dental regenerative experience
We have gained experience with PRF during the last +10 years and have a deep insight into the usage and possibilities in a dental setting. We have a wide offering and understanding of biomaterials for dental surgery and perio treatments.
See examples of biomaterials and other components for dental surgery below.
See examples of dental use below 
Perio treatment with PRF
Mandibular reconstruction
PRF |
The process & application
VET |
Example of Perio & PRF
VET |
Mandibular reconstruction
Mandibular reconstruction following e.g. tumor resection can be enhanced by combining Platelet Rich Fibrin (PRF) and advanced bone substituts that slowly remodels into newly formed bone.
PRF
The PRF provides a wide range of regenerative cells and growth factors into the site which slowly secretes cytokines and growth factors over the course of 6-10 days supporting the formation of new vascularisation and proliferation.
---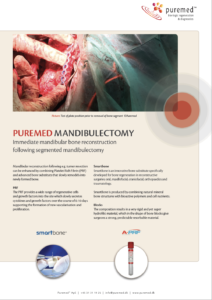 Smartbone
SmartBone is an innovative bone substitute specifically developed for bone regeneration in reconstructive surgeries: oral, maxillofacial, craniofacial, orthopaedics and traumatology. SmartBone is produced by combining natural mineral bone structures with bioactive polymers and cell nutrients.
Blocks
The composition results in a very rigid and yet super hydrofilic material, which in the shape of bone blocks give surgeons a strong, predictable resorbable material.
Dental | Selection of our biomaterials and suture products used

by veterinarians and dentists
Do you want to know more about our biomaterials and sutures?
Call us +45 31311925
Email us – info@puremed.dk