PRF |
Platelet Rich Fibrin 

for Veterinarians
Chairside access to the patients healing potential from venous blood
The Swiss Knife of Wound Healing
PRF was coined by the French Anesthesiologist Dr. Joseph Choukroun in 2001, who is still very much setting the pace in refining the protocols and methods of PRF.
PRF is today increasingly used accross medical specialties, as an important regenerative tool for tissue reconstruction, wound healing, inflammatory and pain management in joints and tendons, as well as encapsulation of bone materials in dental and orthopedic surgery.
Full support of the healing cascade
In short PRF delivers a full range of cells, growth factors and proteins in a fibrin matrix that provides a surplus of regenerative force into the site supporting the initial steps in the healing cascade from inflammation to proliferation avancing the neovascularisation process by slowly secreting the right growth factors over the time of several days.
---
Low Speed Centrifugation Concept
In 2014 the PRF protocols changed significantly as the LSCC was formulated by Choukroun et al. By lowering the centrifugation speed and time PRF was significantly enriched with various inflammatory cells such as leukocytes and platelets and enabled formulation of new protocols like i-PRF™.
Numerous international publications are available and demonstrate the effectiveness of PRF in many indications: oral surgery (implants, bone grafting, periodontal surgery, extractions, etc…), Orthoepedic, cosmetic and dermatological surgery.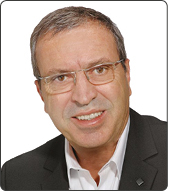 Picture: Dr. Joseph Choukroun
Anesthesiologist, Nice, France
A-PRF™ | 
The process & application
A-PRF Liquid | large membranes and sticky bone option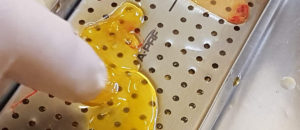 By combining the A-PRF+™ tubes and the A-PRF™ Liquid protocol the PRF can be used in a liquid state where clotting is postponed a few minutes. This allows for the creation of PRF membranes of various sizes and encapsulation of materials like bone materials.
i-PRF™ | Injectable PRF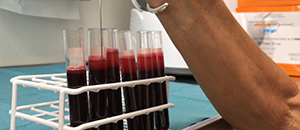 In 2014, Choukroun and his team of researchers managed to produce a liquid form of PRF (i-PRF™), in which the formation of fibrin matrix was postponed. As i-PRF™ is injected, fibrinogen then starts the coagulation and forms an encapsulation of the cells which is able to stick to rough surfaces.
i-PRF™ | Joint injections
The i-PRF™+protocol is preset to support the new 13 ml tubes. The extended tube lenght not only makes the volume higher but utilize that the  centrifugation speed in the top section is even lower than the 10 ml tubes and provide a higher i-PRF™ output from a more gentle spin.
A-PRF | intro to PRF box
Short introduction creation of A-PRF™ membranes using the PRF box.
A-PRF | bone graft created from membranes and bonematerials
Bone particles mixed with A-PRF™ membrane cut into pieces formed into a graft. i-PRF™ is then injected onto the graft and it clots
A-PRF | sandwich graft
Combination of A-PRF™ and i-PRF™ in creating bone grafts from bone substituts.
Mandibular reconstruction following e.g. tumor resection can be enhanced by combining Platelet Rich Fibrin (PRF) and advanced bone substituts that slowly remodels into newly formed bone.
PRF
The PRF provides a wide range of regenerative cells and growth factors into the site which slowly secretes cytokines and growth factors over the course of 6-10 days supporting the formation of new vascularisation and proliferation.
---
Smartbone
SmartBone is an innovative bone substitute specifically developed for bone regeneration in reconstructive surgeries: oral, maxillofacial, craniofacial, orthopaedics and traumatology. SmartBone is produced by combining natural mineral bone structures with bioactive polymers and cell nutrients.
Blocks
The composition results in a very rigid and yet super hydrofilic material, which in the shape of bone blocks give surgeons a strong, predictable resorbable material.
The components of succesful wound healing

The vital elements in any successful wound healing or grafting situation, are the management of the inflammation process, control of fibroblast activity and epithelialization, and the orchestration of neovascularization.
This management task can succesfully be performed by using autologous cells collected from sources like the blood stream, bone marrow and adipose tissue.
At Puremed our wound healing portfolio is focused on
Blood derived cells following the PRF protocol
Adipose derived Stem cells Point-of-Care
---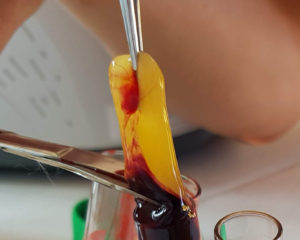 Picture: A-PRF™ clot prior to compression stage ©Puremed
Injectable Adipose Derived Stem Cells
Adipose tissue has an extremely high content of regenerative cells and holds the largest amount of adult mesenchymal stem cells in the body. In fact, adipose tissue contains about 1,000 times (or more) stem cells (ADSCs) than bone marrow (BMSCs).
Stem cells play an interesting role in the subject of regeneration by increasing the number of multipotent stem cells and stimulating healing processes at a deeper level than conventional techniques.
---
Get the fact sheet about injectable autologous solutions here
Injectable Platelet Rich Fibrin
The latest generation of cellular isolation and growth factors from the bloodstream is called PRF – Platelet Rich Fibrin – which is based on the collection and isolation of all the cells involved in the healing processes.
PRF provides easy access to a large number of cells that, for a prolonged amount of time, stimulate the area they are placed in. Since 2014 i-PRF™ has enabled injections of PRF into joints and tendons.
A-PRF™ | 
Team and litteratur
Dr. Joseph Choukroun
received his diploma in 1979 in Montpellier, France. Specialist in anesthesiology in 1981, University of Montpellier. Fellowship of Pain Clinic, University of Strasbourg. Chief of staff of the Private Pain Clinic, Nice. President and creator of the SYFAC, international symposium on growth factors, Nice.
Inventor of the PRF technique. Author on several scientific and clinical papers for scientific journals. International Speaker.
International team
Dr. Joseph Choukroun is pushing the research on PRF together with scientists from the Laboratory of Clarion Research Group, Pennsylvania University (USA) and Repair-Lab, Institute of Pathology, Johannes Gutenberg University, Mainz (Germany) and Physicians around the world.
A-PRF™ box 
with membranes ready to use – notice the instruments made for handling the membranes